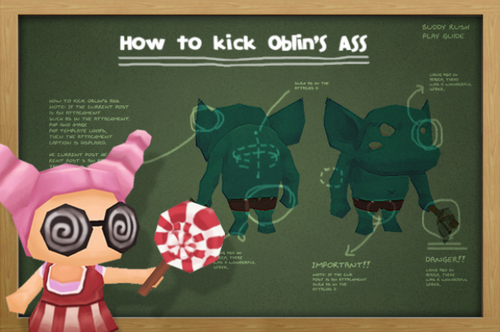 The controls are very simple, and only requires tapping (iPhone/iPad/Android), mouse, and sometimes keyboard (FacebookApp).
General Controls
Edit
BuddyRush can be played with simple control.
Under web, all you need is clicking and under mobile devise you only need to tab.
Here's specific instructions of control:
- Moving characters: Tab the place where you want to move your character.
(If you double tap or double click, the character will be moved to the place at once)
- Enlarging screen : Pinching/ spreading your finger (iPhone/iPad/Android only)
- Talking to NPC : Tab(click) near the NPC you want to talk to.
- Basic attack : Tab(click) the monster. If there is monster around you the character will attack automatically.
- Group attack : Double tap(doulbe click) the monster. All your team members will attack that specific monster prior to others.
- Using skills : Tap(click) the skill button you want to use.
- Using items : Tap(click) to open the bag and choose the item you want to use.
Community content is available under
CC-BY-SA
unless otherwise noted.